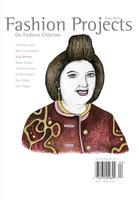 We're excited about the Panel on fashion criticism with Robin Givhan (the first fashion critic to receive a Pulitzer Prize), Stefano Tonchi (editor-in-chief of W magazine) and Guy Trebay (New York Times culture and style reporter). It is moderated by Francesca Granata, Assistant Professor of Fashion Studies at Parsons the New School for Design and editor of Fashion Projects. The panel celebrates Fashion Projects's new issue, which is devoted to the subject of fashion criticism and features interviews with Givhan, Tonchi and Trebay as well as Judith Thurman (New Yorker), Suzy Menkes (International Herald Tribune), and others leading fashion critics.
The event is at Kellen Auditorium – 65 5th Avenue on Tuesday, March 12th from 6-7:30pm.  There is very limited seating and it may already be full. RSVP here http://www.eventbrite.com/event/5613881270.
Made possible by the School of Art and Design History and Theory and the MA Fashion Studies.